Traditional Japanese Gardens & Unique Accommodation in Victoria
Japanese gardens are an art form recognised all over the world. Typically very formal and stylised, Japanese gardens are designed by their creators to be enjoyed, inspire self-reflection and bring respite from busy city lives.

The concept of the Japanese garden originated during the Asuka period (538 – 710) when travelling merchants, Buddhist monks and scholars visited China. They returned with sketches and tales of beautiful manicured gardens, which inspired the Japanese people to create their own.
In Japan today you can see the different styles of gardens designed and built from Asuka period, right through to the modern era. The former capital of Kyoto has the greatest collection of gardens, but Tokyo is also a popular place to visit for gardens, especially in Spring for the sakura (cherry tree blossoms).
Three Main Styles of Japanese Gardens
Traditionally there are three main styles of Japanese gardens and all of them look quite different.
Karesansui  is a dry landscape garden, also called a zen garden. No water is used in this type of garden, instead raked sand is used to represent water and moss covered rocks represent mountains. Bridges are sometimes used to simulate the idea of water flowing beneath. The karesansui garden represents the spiritualism of Zen Buddhism, and is designed for quiet contemplation and to soothe the mind.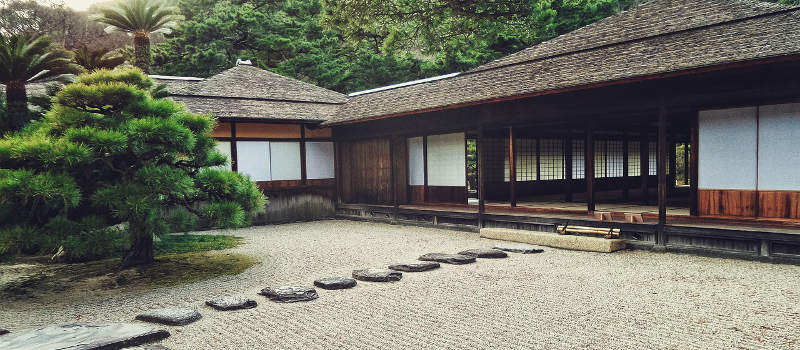 Tsukiyama is a classic style of Japanese garden. It usually has seating to enjoy a certain view, or with winding paths for strolling around and contemplation. The tsukiyama garden represents a miniature of a natural scene that is famous in Japan. It features ponds, hills, stones, paths, flowers, small plants, streams, trees, fishes, bridges and moss.
Chaniwa  is a common type of garden found all over Japan, it features a tea ceremony house alongside the garden. The chaniwa garden is smaller in size compared to the tsukiyama and karesansui gardens and simply decorated with stone lanterns and a stone basin.
The Philosophy Behind Japanese Gardens
Japanese gardens are interesting because they are nature-inspired but are carefully controlled by man. They serve to bring nature into people's lives but in a refined, aesthetically pleasing manner to encourage serenity, or a zen-like calm.
The Japanese believe that the process of building a garden is a long journey and one which requires careful tending and maintenance, sometimes the final look can take centuries. A garden of 100 years old, for example, is considered young in the lifespan of Japanese gardens.
Elements of Japanese Gardens
Japanese gardens use various common elements for construction, such as sand, rocks, trees, water, gates, bridges and fences. Decorative elements are also used including, flowers, statues, water basins, stone lanterns, bamboo pipes and fish. No single element is more important than the others and each has a different meaning or representation. Japanese gardens typically have a combination of elements that work together to create harmony.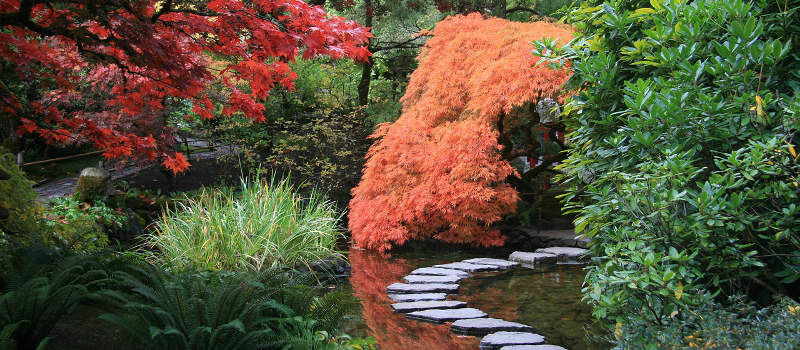 The Four Seasons of the Japanese Gardens
Gardens in Japan can be viewed at any time of year because the country has four distinct seasons and each season has its own particular highlight:
Spring –  Arguably the most popular time to visit Japanese gardens for admiring the beauty of the cherry blossoms.
Summer – Iris festivals are held at various Japanese gardens across the country and a large variety of flowers are in bloom.
Autumn – Japanese gardens boast colourful autumn foliage creating a sea of red, orange, and yellow. Winter – Japanese gardens are very beautiful in winter when blanketed in white snow, this is a magical season to visit.
Unique Accommodation in Victoria for a Romantic Escape
In Japan no house is considered complete without a garden. The house and its garden are two halves of a whole. Following this concept, Japanese Mountain Retreat has created one of the most romantic escapes in Victoria, with luxury traditional-style ryokans integrated into a landscaped Japanese garden with rocks, waterfalls and bamboo groves.
This private, unique accommodation in Victoria is situated at the foot of the Dandenong Ranges, just a 45 minute drive from Melbourne. At the retreat you will be immersed in nature and inspired by the feelings of peace and tranquility reminiscent of traditional Japanese gardens. A truly zen-like escape from the city of Melbourne!
Japanese gardens inspire poetry, music and romance, so to enhance your romantic getaway couples are treated to roses, champagne, gourmet chocolates and private outdoor bathing pools. Here you can reconnect with nature, and each other, in a beautiful, memorable setting.
Book a one night accommodation or two night accommodation package and experience one of the most romantic getaways in Melbourne with your partner. This unique accommodation in Victoria also has an onsite day spa and restaurant facilities to make your stay complete.