Many people don't know that the best hot springs packages in Melbourne are right on their doorstep. Forget about travelling a long way. Read on and discover a romantic secret you won't be able to wait to share with your partner.
"Imagine discarding your clothes beside a natural pool, surrounded by rocks and gently swaying bamboo. Feel the smooth water against your skin as you sink into mineral rich hot springs water. You're partner is beside you. You are completely secluded. There is nobody and nothing to interrupt you – only the sounds of nature. It's mid week and you've both escaped for a day of sneaky romance. You haven't travelled far. It's hard to believe this exists so close to the city!"
Escape With Your Partner
How often do you sit at your desk dreaming of escaping with your partner? The wish to get away from the noise and pressures of everyday life is real. We all need down time and time to reconnect the spark within our relationship.
You're dream does exist and it's right on your doorstep. In fact only 45 minutes from the centre of Melbourne.
Japanese Mountain Retreat Mineral Springs & Spa is Melbourne's most romantic and private destination for couples. With a choice of great hot springs spa and accommodation packages, you can choose the package that's perfect for you and perfect for your budget.
Hot Springs Packages Melbourne
Many people know of the public hot springs that exist in Hepburn Springs and on the Mornington Peninsula, but Melbourne has it's own homegrown hot mineral springs. The water comes from deep under the lush temperate rainforests of the Dandenong Ranges.
Japanese Mountain Retreat has two beautifully landscaped natural pools that are enclosed and completely private. The rich mineral waters are heated to the perfect bathing temperature. Guests can bathe with or without clothes for 50 minutes, enjoying all the benefits of hot springs bathing – relieving tired muscles, increasing blood circulation and relaxing body and mind.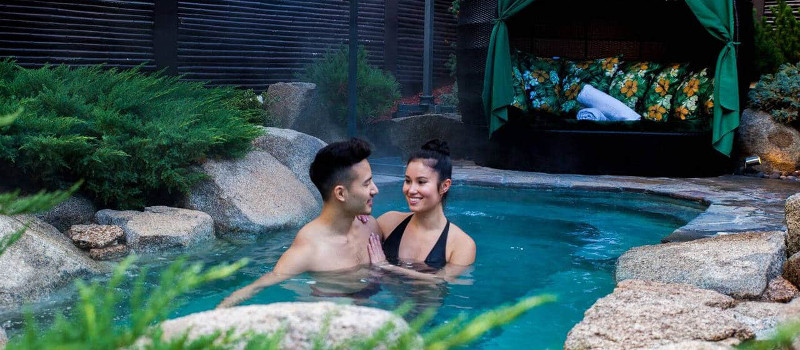 The Best Massage & Hot Springs Deal In Melbourne
The best hot springs and massage deal is in Melbourne. Share an experience of clean mountain air and decadent pampering at a luxury resort at the foot of the Dandenong Ranges.
The Best Hot Mineral Springs Package
Enjoy outdoor hot mineral springs bathing for 50 minutes, followed by a luxury 50 minute full body massage treatment for only $345 per person. This hot springs bathing and massage package is one of the most popular packages for couples seeking a romantic and affordable getaway. Bookings are available during the week and on the weekend.
Be Treated Like A King & Queen
From the moment you arrive you will be treated like royalty. Staff at Japanese Mountain Retreat understand that many couples don't often get to spend quality time together being pampered. This time is precious and is about you and your partner. Nobody else.
Staff will direct you to your own private pool, change rooms and showering facilities. You will be provided with towels and bathrobes. Following your hot springs indulgence, enjoy a massage in a stunning treatment room with ergonomic state-of-the art massage facilities. Finish your experience with traditional refreshments to nourish the body.
See the full range of the best spa packages in Melbourne. Japanese Mountain Retreat provides outdoor bathing, indoor bathing, massage treatments, and luxury body treatments and facials. All bookings are via phone. If you have an inquiry chat to us online, phone us during business hours or send us a message.